Upcoming Rides/Events
Introducing the Rides
Why Tour de Thailand?
Tens of thousands of people each year take cycling holidays and we believe it's possible that like-minded individuals can take these cycling holidays with more in mind than just another bicycle ride in a foreign land. Imagine a premium quality cycling tour that is fully supported, environmentally friendly, and a meaningful adventure that will change the world one smile at a time. The Tour de Thailand is a tour with charity at its heart that provides a whole lot of customer satisfaction to make sure our riders enjoy their efforts each and every kilometer along the way.
Come enjoy the beauty of Thailand and also give back to the communities that we visit and other kids around the world. Our registration fees are very reasonable and cover your tour package at rates below all other comparable tours. The big difference with the Tour de Thailand is that each participant raises a minimum of $1,000 US Dollars [ other currency ] per section for Operation Smile, an organization dedicated to providing free surgical treatment to children and young adults in developing countries who are suffering from facial deformities.
About the Routes

The 10th Annual Tour de Thailand is our signature ride where we ride the length of Thailand in 30 days over 1500 miles / 2400 kms which includes 24 days of riding and 6 strategic days off for sightseeing, relaxation, and to take it all in.
We ride our bikes each day taking in all the sights along the way, and then we'll enjoy dinner parties and a comfortable nights sleep after a day in the saddle. There will be plenty of rest stops along the route to refuel your body, fill your water bottles, and, should you need it, provide a repair for your bicycle. Once we arrive at the hotel, its shower time, then perhaps a massage or a cool drink in the pool while our bike techs maintain your bike in peak condition!
Whether we're cycling during the day or it's one of our days off to enjoy the beauty and culture of Thailand, you'll find that we provide a great level of service and support to make sure that it's not only an epic charity cycling event but an amazing holiday at the same time.
As featured in Lonely Planet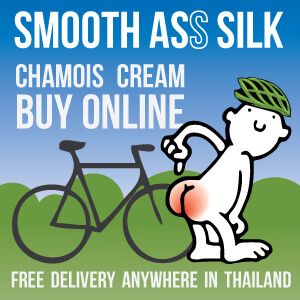 Tour de Thailand Rides Join Us!
Raising Funds for Charity
All we ask is that you raise a minimum of 1,000 US Dollars [ other currency ] in donations for each of the (5) Tour de Thailand rides you join. Of course, you are welcome to raise more money and give your karma and our efforts an extra boost. 100% of the money raised goes directly to the charities. We simply ask that you show us evidence that the money was raised and received by the charities (receipt copies, letter from the charity, online fundraising page, etc.).
Operation Smile
Throughout the world, Operation Smile volunteers repair childhood facial deformities while building public and private partnerships that advocate for sustainable healthcare systems for children and families. Together, we create smiles, change lives, heal humanity. [ visit their website ]
Newsletter
Sign up for our newsletter to keep up to date on our promotions and amazing rides
Find Us on Facebook